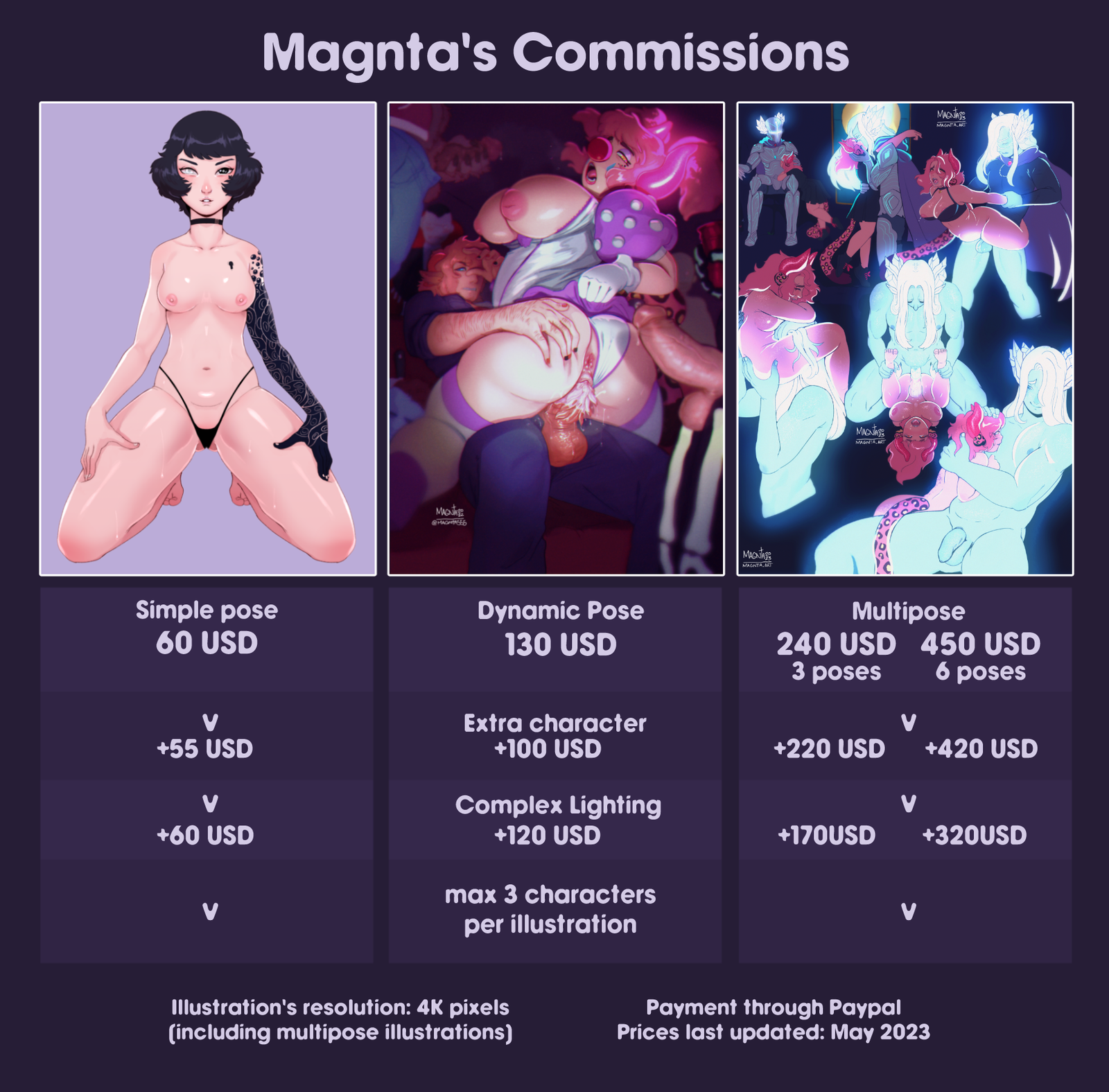 Commission types
Simple pose
Static Poses, Standing softly posing, kneeling, crouching, sitting, mostly frontal and simple perspectives.

Dynamic pose
There's movement or interaction like running, jumping, fucking, masturbating, exaggerated posing, interacting another person or object, like a big sword or sex toys. might have a interesting perspectives from bellow or above.
More than one pose, dynamic or simple, in one 4k pixel canvas.
Ok to draw
Any Gender
Any Sexuality
Any Genitalia
Canon fictional characters
Original Characters
Most body types
Furry
Big or Small Monsters
Simple Robots
Chibi/Animal Crossing/Petite Characters
Soft Gore like bruises, cuts and blood
Horror
Noncon/Dubcon
I'm open to most kinks but feel free to contact me
and ask if you're unsure.
Will not to draw
Toddlers and babies
Pregnancy
Extreme gore
Porn of any IRL people (this includes celebrities)
Scat and Vomit
Some extra Rules:

-Prices are in USD and payments are done through Paypal invoices. Other payment method might be available, feel free to ask.
-I have the right to reject your commission request.
-I'm not accepting character design commission, but if you're really interested on it, feel free to DM me and we can negotiate price and conditions.
-Prices can change according to the complexity of the illustration or the characters.
-Only one correction allowed, Extra corrections would be extra fee depending of the complexity.
-The commission can NOT  be used commercially (reselling the picture, sell prints, shirts, merchandising, NFT, etc)
-No Refunds of any kind!!